2012-2013 SATW FOUNDATION
LOWELL THOMAS TRAVEL JOURNALISM COMPETITION
Faculty members of the University of North Carolina-Chapel Hill School of Journalism and Mass Communication, coordinated by Monica Hill, judged the competition. There were 1,257 entries. In the following list of winners, numbers in parentheses denote number of entries in the category.
Awards For Works Published in 2012-2013
Category 1: Grand Award — Lowell Thomas Travel Journalist of the Year (37)
Gold: Mary Jo McConahay, freelance writer, author, blogger and documentary filmmaker
Silver: Genevieve Shaw Brown,Travel/Lifestyle Editor, ABC News
Bronze: Kerri Westenberg,Travel Editor,Star Tribune (Minneapolis)
Honorable Mention: Ellen Creager, travel writer, DetroitFree Press, Jill Schensul, senior writer, The Record/North Jersey Media Group
Category 2: Newspaper Travel Sections (11)
2A — Newspapers with 350,000 or more circulation
Gold: Los Angeles Times, Catharine Hamm, Travel Editor
Silver: Star Tribune (Minneapolis), Kerri Westenberg, Travel Editor
Bronze: The Dallas Morning News, Cathy Barber, Features Editor
2B — Newspapers under 350,000 circulation
Gold: The Boston Globe, Anne Fitzgerald, Travel Editor
Silver: San Francisco Chronicle, Spud Hilton, Travel Editor
Bronze: The Record, northern New Jersey, Marc Schwarz, Travel Editor
Category 3: Magazines (12)
3A — Travel Magazines
Gold: Virtuoso Life, Elaine Srnka, Editorial Director (Sept. 2012), (Nov. 2012), (Jan. 2013)
Silver: Travel + Leisure,Nancy Novogrod, Editor-in-Chief
Bronze: Afar,Julia Cosgrove, Editor-in-Chief
3B — Travel Coverage in Other Magazines
Gold: Midwest Living,Kendra Williams, Senior Travel Editor
Silver: Outside, Christopher Keyes, Editor, and Abe Streep, Senior Editor
Bronze: Southern Living, Rachel Hardage Barrett, Executive Editor
Category 4: U.S./Canada Travel Article (114)
Gold: Bruce Schoenfeld, "Radio Days," National Geographic Traveler
Silver: John Flinn, "In Search of Kodiak Moments," San Francisco Chronicle
Bronze: Frank Bures, "The Fallout," The Washington Post Magazine
Category 5: Foreign Travel Article (149)
Gold: Guy Martin, "Fear and Loving in Tel Aviv & Beirut,"Departures
Silver: Frank Bures,"The Crossing," Nowhere tablet magazine
Bronze: Melinda Page, "Blaze Your Own Trail: Tuscany," Arthur Frommer's Budget Travel
Category 6: Photo Illustration of Travel (57)
Gold: Jim Richardson, "My Scottish Obsession," National Geographic Traveler
Silver: Lucas Foglia, "A Lone Star Story," Afar – CLICK HERE to view the photos of this award
Bronze: Gary Arndt, "Photo Essay: Haida Gwaii, British Columbia," Everything-Everywhere.com
Category 7: Special Package/Project (36)
Gold: "Air Canada's 75th Anniversary," enRoute magazine, book and website, Ilana Weitzman, Editor-in-Chief; Isa Tousignant, book editor; enRoute team and Spafax digital team
Silver: "Travelers of the Year," National Geographic Traveler multimedia, George W. Stone, Editor-at-Large
Bronze: "Mission Space," Westways, Elizabeth Harryman, Travel Editor, and Leslie Mieko Yap, Editor-in-Chief
Category 8: Cruise Travel Article (50)
Gold: Toby Saltzman, "La Dolce Amore, More Amore," Cruise & Travel Lifestyles
Silver: Elaine Glusac, "Where Time Stood Still," Private Clubs magazine
Bronze: Skye Mayring, "Mesmerizing Mekong," TravelAge West
Category 9: Adventure Travel Article (68)
Gold: Mark Jenkins, "It Means Peace," Bicycling
Silver: David Noyes, "One Step," TRVL magazine for iPad
Bronze: Bill Donahue,"The Long Way Home," Backpacker
Category 10: Travel News/Investigative Reporting (24)
Gold: Grayson Schaffer, "Take a Number," Outside
Silver: Ken Bensinger, "The Too-Frequent Fliers," Los Angeles Times
Bronze: Scott Mayerowitz, "From the Start, Dreamliner Jet Program Was Rushed," The Associated Press
Category 11: Service-Oriented Consumer Article (72)
Gold: Scott Mayerowitz, "Cheapest Airfare Might Be on Airlines' Own Website," The Associated Press
Silver: Julie Schwietert Collazo, "Budget Travel: How to Travel to Cuba," Fox News Latino online
Bronze: Karen Schwartz, "Inheriting Travel: Trusts Can Fund Trips for Heirs," The Associated Press
Category 12: Environmental Tourism Article (33)
Gold: Kevin Grange, "Sacred Water," National Parks magazine
Silver: Aaron Teasdale, "Sound Off," Sierra magazine
Bronze: Akhil Sharma,"The Maldives: Heaven Can't Wait," Food & Wine
Category 13: Cultural Tourism Article (112)
Gold: Laurie McAndish King, "Silk From Ashes," "Travel Stories From Around the Globe"
Silver: Stephen Heuser, "Water Shapes Their World," The Boston Globe
Bronze: Eugene L. Meyer, "The Jews of Berlin: Vibrant, Diverse," B'nai B'rith Magazine
Category 14: Personal Comment (148)
Gold: Sean McLachlan, "Video Games With a Refugee," Gadling Travel Blog
Silver: Beth Ann Fennelly, "How Oxford Takes Its Lemonade," Southern Living
Bronze: Peter Jon Lindberg, "Summerland," Travel + Leisure
Category 15: Special-Purpose Travel (104)
Gold: Andrew McCarthy, "Escape to the South Seas," Travel + Leisure
Silver: Patrick Brady, "My Day With Ilya," Peloton magazine
Bronze: Catharine Hamm, "Courage and Legacy," Los Angeles Times
Category 16: Short Article on Travel (59)
Gold: David Farley, "Mama Knows Best," Afar
Silver: Gregory Dicum, "Common Ground," Afar
Bronze: Anja Mutić, "Starry-eyed in Chile's Atacama Desert," BBC Travel
Category 17: Travel Book (32)
Gold: Andrew McCarthy, "The Longest Way Home: One Man's Quest for the Courage to Settle Down," Free Press/Simon & Schuster
Silver: Nigel Holmes,"The Lonely Planet Book of Everything: A Visual Guide to Travel and the World," Lonely Planet Publications
Bronze: Doug Mack, "Europe on 5 Wrong Turns a Day: One Man, Eight Countries, One Vintage Travel Guide," Perigee/Penguin Group
Category 18: Guidebook (35)
Gold: J.W. Ocker, "The New York Grimpendium: A Guide to Macabre & Ghastly Sites," The Countryman Press
Silver: Mike Urban, "Lobster Shacks: A Road-Trip Guide to New England's Best Lobster Joints," The Countryman Press
Bronze: Robert Holmes, "A Traveller's Wine Guide to California," Interlink Books
Category 19: Online Travel Journalism Sites (17)
Gold: RoadsandKingdoms.com, Roads & Kingdoms, Nathan Thornburgh and Matt Goulding, co-founders
Silver: Afar.com, Afar Media, Davina Baum, Digital Content Director
Bronze: FathomAway.com, Fathom, Pavia Rosati, Founder and CEO, and Jeralyn Gerba, Editorial Director
Category 20: Travel Broadcast — Audio (15)
Gold: Rick Steves, "Travel With Rick Steves: Mother's Day — Sweet Home Croatia; An American Mother in Paris," Tim Tattan, Executive Producer, public radio and podcast
Silver: Thomas C. Wilmer, "King Biscuit Blues Festival," National Public Radio/KCBX in San Luis Obispo, CA
Bronze: Joseph and Julie Rosendo, "Land Without Limits: The Cariboo Chilcotin Coast Region of British Columbia," Travelscope Radio Network and Travelscope.net podcast
Category 21: Travel Broadcast — Video (16)
Gold: Richard Bangs, Didrik Johnck and Laura Hubber, "Richard Bangs' South America: Quest for Wonder," American Public Television
Silver: Joseph and Julie Rosendo, "Northern Ethiopia: Ancient History and Spiritual Present," American Public Television/KQED in San Francisco
Bronze: 90-Second Insider Series, TravelandLeisure.com/video, Travel + Leisure, Pam Abbott, Vice President, Digital Operations and Creative Services; Niloufar Motamed, Features Director and Senior Correspondent; Sarah B. Spagnolo, Digital Projects Editor
Category 22: Travel Blog (40)
Gold: PerceptiveTravel.com/blog, Tim Leffel, Editor, and contributors Kerry Dexter, Liz Lewis, Sheila Scarborough, Brian Spencer and Alison J. Stein
Silver: ChangesinLongitude.com,Larissa and Michael Milne
Bronze: AuthenticLuxuryTravel.net, Elizabeth Hansen
Category 23: Travel App (16)
Gold: Fodor's City Guides, Fodor's Travel, for iOS and Windows Phone, Arabella Bowen, Executive Director, Editorial and Content Strategy; Gautam Banerjee, Senior Product Manager; Linda Schmidt, Managing Editor
Silver: Travel by Handstand (HST), for iPad, Peter Landau, Managing Editor
Bronze: SoCal Close-Ups, Los Angeles Times, for iPad, Christopher Reynolds, Travel Reporter, and Catharine Hamm, Travel Editor
The Society of American Travel Writers Foundation was begun in 1981 by a group of SATW writers, editors and public relations professionals who were concerned about the future of travel journalism.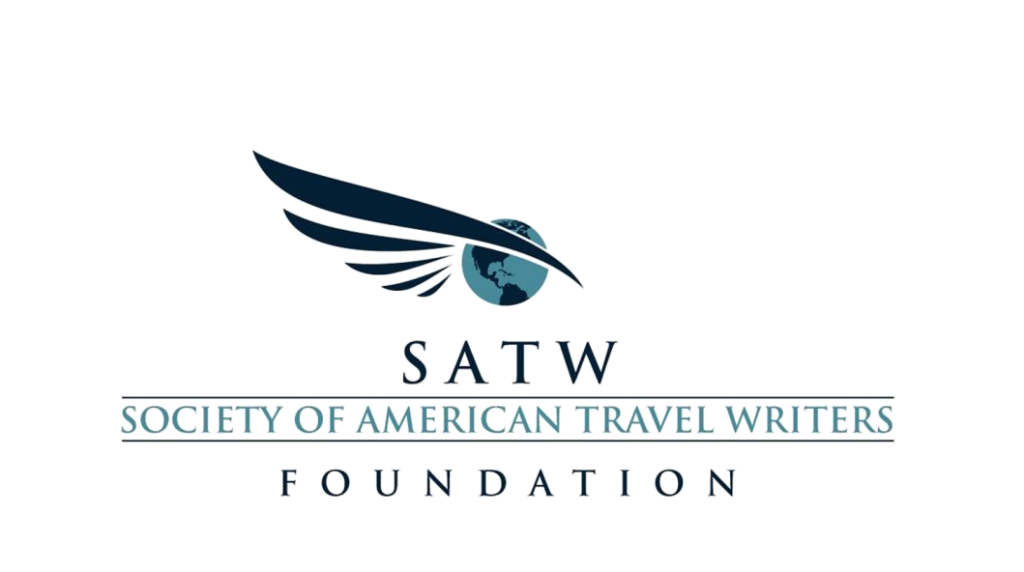 SATW (the Society of American Travel Writers) is the pre-eminent professional association of travel journalists and communicators. Learn more about this premier networking organization by visiting its website, www.satw.org.